Located in My Account / Submission Options, your Agent of Record selection is necessary to complete and process your clients' life insurance application paperwork. The Agent of Record selection determines who the "writing agent" is on a particular case or application.
---
If You Are the Agent of Record
In most cases, you will be the agent of record and "self" is the appropriate selection. If this is the case, the system will use the account information from your
Personal
tab along with state licensing and agent contract numbers from the
Licensing & Contracting
tab and apply them to any submissions processed via the Insureio system.
To select yourself, click the checkbox next to Agent of Record is Self.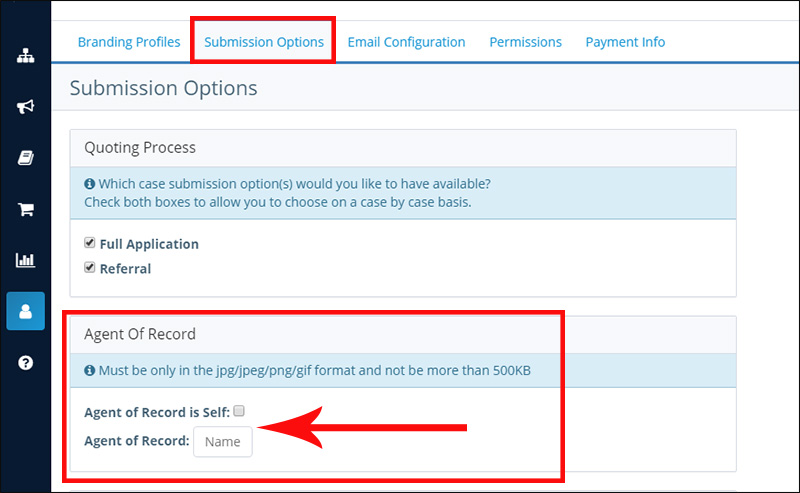 ---
If You Are Not the Agent of Record
You would
not
be the agent of record if another agent is acting as a "solicitor" for your firm or agency, or if you are an administrative/support employee submitting information on behalf of an agent you work with. In these cases, the actual agent of record may be your up-line, your manager, or the principal at your agency. They will need to be an Insureio user to set them as your agent of record in the system. Set them as your agent of record as follows:
In the Agent of Record section of the Submission Options tab, click the checkbox to de-select the "self" option.
Click the search box next to the Agent of Record field. Start typing a name or an email address and the system will pull up any matches.
Click to select the appropriate user.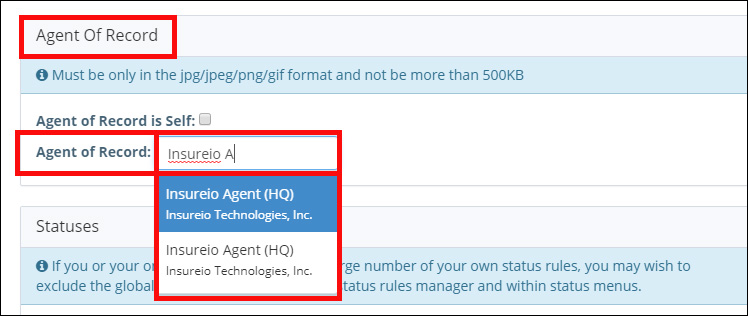 NOTE: You don't need to do anything with the signature fields. We currently handle both of these for you as part of the contracting process.
---