Within the Marketing section, the Links tab provides you with quick-access links you can give your clients and prospects to get them started with a quote or application.
All Insureio subscribers are provided with a unique Application link and Referral link. These links are customized with your Insureio user ID, ensuring new leads generated by that link are posted to your account. If you were an EZLife user, this function is similar to the EZLife Link.
You can send these links to clients, allowing them to get quotes, run the health analyzer, select a product and carrier, and complete the Insureio application on their own. Once a client completes the quote process, you'll be notified via email alert and can review the application, edit as needed, and approve the app for submission. These links are ideal for clients who can walk themselves through the process without your help.
Jump to a section:
Accessing Your Insureio Marketing Links
What Your Client Sees
What You See
Accessing Your InsuranceDivision Link
---
Accessing Your Insureio Marketing Links
Click Marketing and then Links from your left-hand main menu.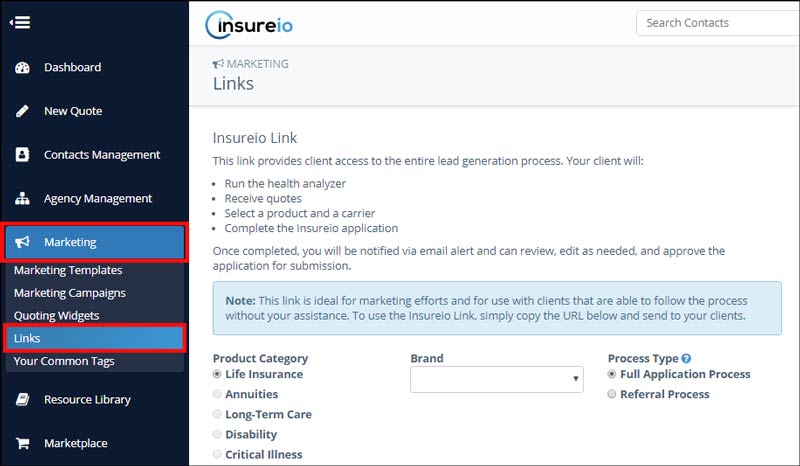 There are three quick selections to make in order to generate your link:
Product Category. "Life Insurance" is selected by default.  We'll be rolling out additional products in the future.
Brand. Select the brand you want your client to see when they click your link. If you want to use your default brand, you don't need to change anything here.
Process Type. Choose Full Application Process or Referral Process. If you need more than the brief explanation below, click here for more detail.

Full Application Process. Use this link to get a client started using the Application submission process. You perform the needs analysis, health screening, provide the quote, and make the sale. Our drop-ticket partner agency handles the application processing, case management, policy delivery, and policy placement. You receive 100% of your normal commission.
Referral Process. Use this link to get a client started using the Referral submission process. Our drop-ticket partner agency handles all of the steps listed above, from the needs analysis to policy delivery and placement. For this service, commission is split 50/50.
Once you've made your selections:
Copy your link (placement shown below in the red rectangle) and paste it into your client communication.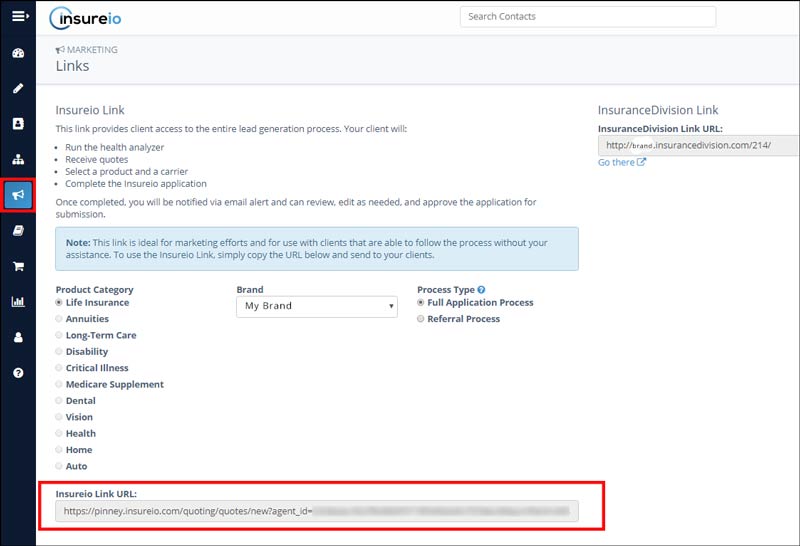 ---
What Your Client Sees
When your client clicks on that link, they'll see a simplified version of the quote path, with messages to guide them, accompanied by your logo and contact information, should they need help.
The image below shows step 1 of the Full Application Process.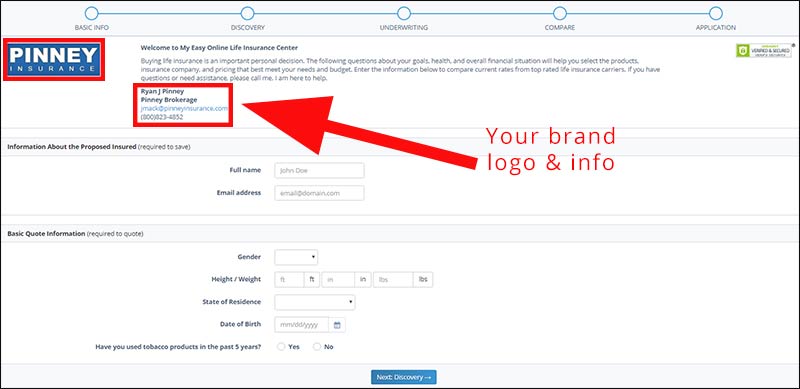 Once the Basic Info screen is filled out, your client is prompted to click Next at the bottom of the screen. They're taken to Discovery.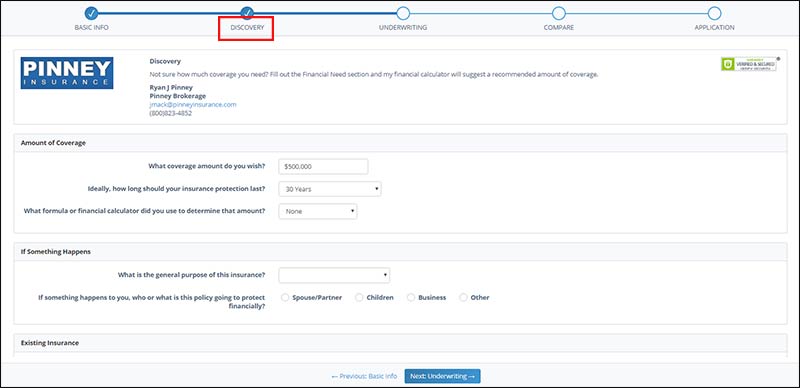 Once Discovery is filled out, your client may click Previous: Basic Info or Next: Underwriting at the bottom of the screen. If they move forward, they're taken to Underwriting.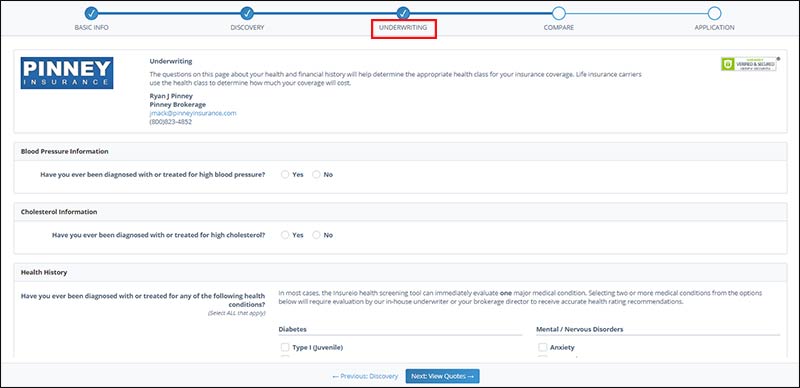 Once Underwriting is filled out, your client may click Previous: Discovery or Next: View Quotes at the bottom of the screen. If they move forward, they're taken to Compare.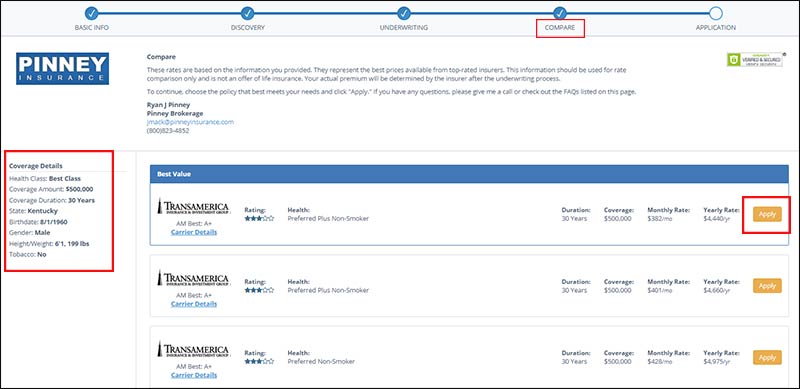 Once they click Apply, they'll be taken to the one-page application. The app will auto-populate with the information they've already provided, such as the company, product, coverage amount, carrier health class, name, and any personal information they provided.
They'll need to fill in additional information such as their driver's license state of issue, driver's license number, SSN, contact information, employer, occupation, income, net worth, and beneficiary information. At the bottom of the one-page app, they'll be prompted to Next: Send My Request.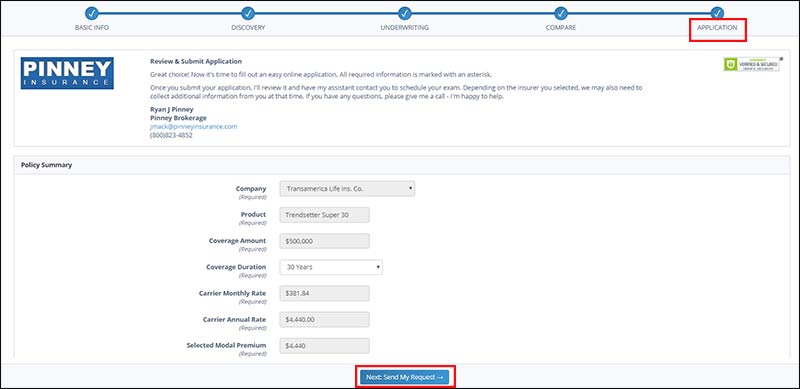 When they submit their application, they'll get confirmation that their info was received and they'll be contacted shortly to complete the application. They'll also be provided with a detailed description of what to expect next in the life insurance process. The info will appear on screen, as well as in a downloadable checklist they can print out or save for future reference.
---
What You See
When your client completes the process, the lead posts to your dashboard and the system automatically sends you an email, notifying you that you have a new lead.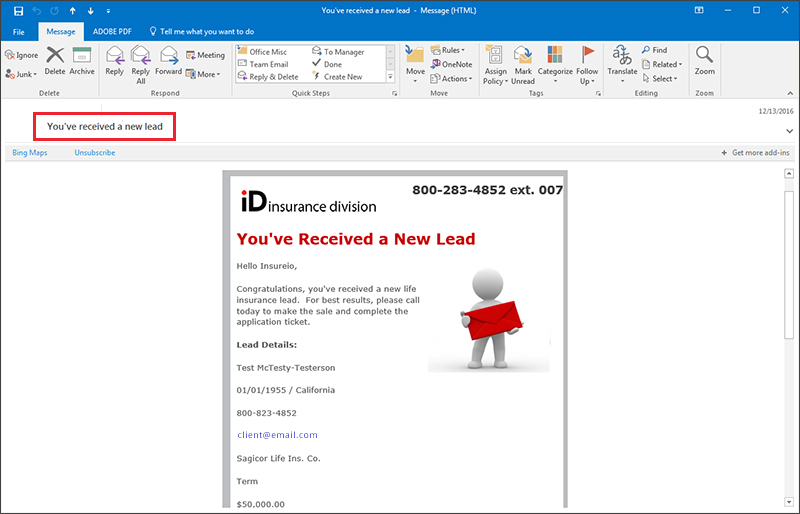 ---
Accessing Your InsuranceDivision Link
If you're an InsuranceDivision subscriber, the InsuranceDivision link on this page will send your client to your InsuranceDivision home page. Here, they can get a quote, view your contact information, or get more information about life insurance. Use the Go there link to preview your page.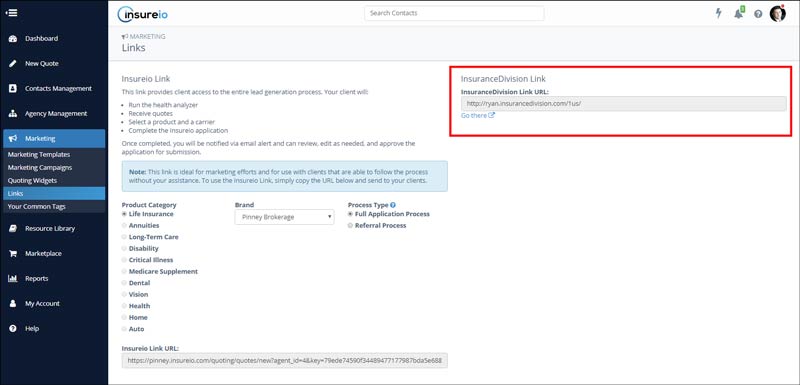 NOTE: The information on your InsuranceDivision page is populated by the contact information and branding information you entered in the My Account section of Insureio.