LAST UPDATED: MAY 8, 2019
Your Common Tags
In this tab, you can see (and add to) the marketing tags you use the most, helping you make decisions about which marketing campaigns might be most beneficial for your clients and prospects.
Jump to a section:
Accessing Your Common Tags
Adding a Tag
Deleting a Tag
---
Accessing Your Common Tags
Click the Marketing section from your left-hand navigation menu.
Click Your Common Tags.

---
Adding a Tag
Type a new tag into the text box.
Hit enter to save and display your new tag.
Your new tag will be displayed above the text entry box.

TIP: Use a descriptive prefix and a dash when entering a tag to make future reporting easier. For example, instead of typing "diabetes" as a tag, type "health-diabetes." That way, if you ever forget that you used "diabetes" instead of "diabetic," you could search for all your "health" tags and see what other wording you may have used.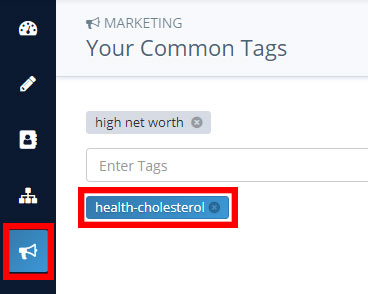 ---
Deleting a Tag
Click the x on any visible tag to delete it.