Payment Info
Located in the My Account section, the Payment tab is where you can change your subscription plan and/or payment method.
---
Jump to a section:
---
Pricing & Plan Updates
As of September 1, 2017, our pricing and plan options have changed! Now, you get even more for your money – our new Basic plan offers everything our Professional plan included, from unlimited brand profiles and lead distribution to SMTP email integration. That's a 68% savings every month! Click here to review our list of features by plan.
Returning users - the first time you log in after September 1, you'll be asked to re-enter your payment information to unlock the expanded feature set. Once you do, you'll also get a FREE month of Insureio, on us!
---
View Current Plan & Payment Status
Click Payment, located at the bottom of the My Account main menu options.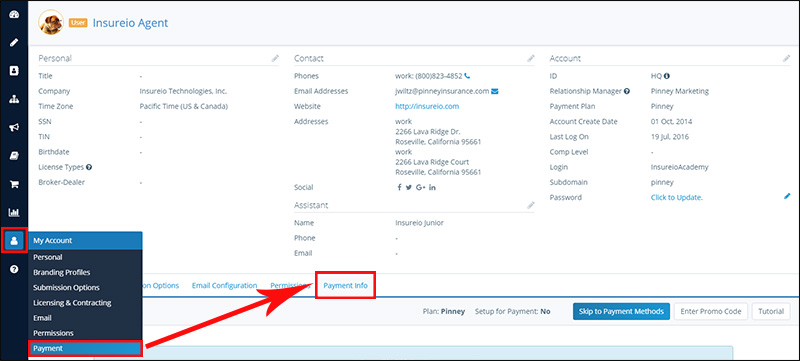 You'll be taken to the Payment Info tab, where you'll see your current plan and whether you are set up for payment.

---
Change or Update Payment Method
To update or change your payment method, click Skip to Payment Methods.

Enter your new card information, then click Add or Update Card. Insureio is hosted on a secure server (https), keeping your credit card information safe.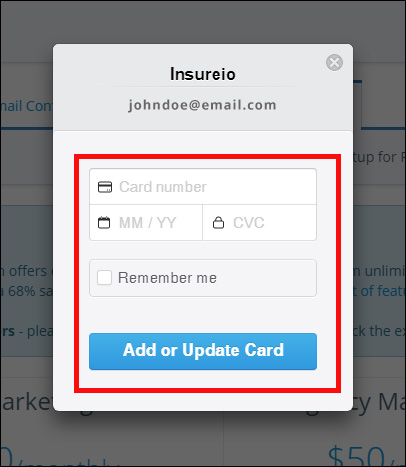 You'll get a success notification once your payment info has been updated.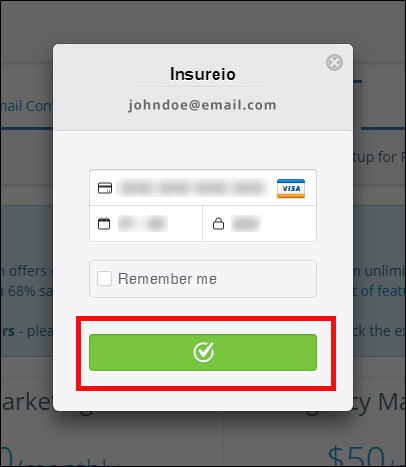 ---
Change Plan
To change your plan, click your desired plan's blue Select button. Get more detail about each plan at Insureio.com/pricing.

You'll see a pop-up message asking you to confirm that you want to change your plan.

Once you click OK, you'll see your plan information update at the top of the tab. Account features and permissions will update immediately. Your next billing cycle will reflect the new plan's cost.