LAST UPDATED: 9/17/21
Quote Path: Basic Information
---
Every new quote requires some basic information to get started. Insureio will walk you through gathering the required information.
---
The Basic Info screen is Step 2 in both the Application and Referral processes.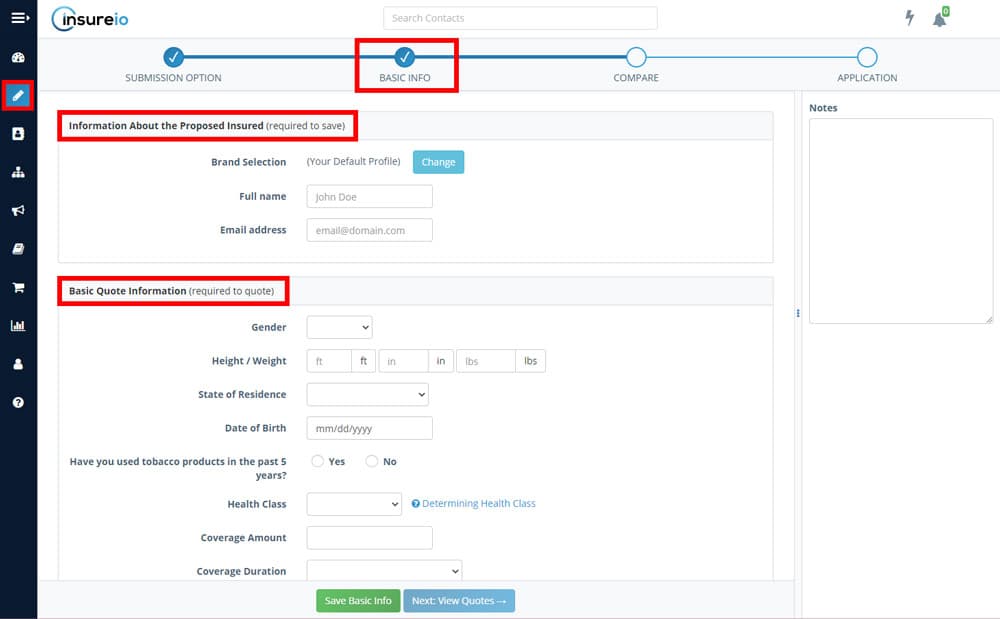 Here's the information you'll collect on this screen.
☑️ Information About the Proposed Insured
The information below is required to save a new consumer record.
Brand Selection. Insureio will use your default brand. If you want to use a different brand, click Change.
Full name. Enter the client's full name.
Email address. Enter the client's email address.
☑️ Basic Quote Information
The information below is required to quote.
Gender, Height/Weight, State of Residence, Date of Birth. Fill in the required information as requested. For Date of Birth, you can enter the date manually using the format MM/DD/YYYY or click the calendar to use the date-picker.
Tobacco. This is a yes/no question asking whether the client has used tobacco products in the past five years.
Health Class. Choose the client's health class from a dropdown menu.
TIP: Click the Determining Health Class link next to the Health Class dropdown menu to view health class summaries for non-smoker classification (best class, preferred, standard plus, standard) and smoker classification (preferred tobacco, standard tobacco).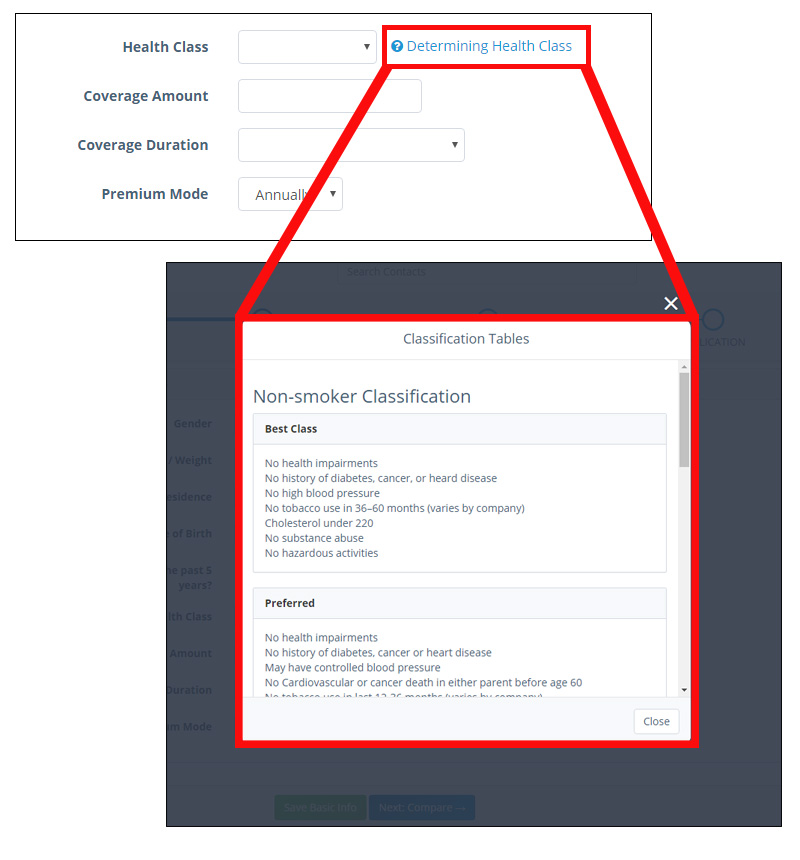 Coverage Amount, Duration, and Premium Mode. Fill in the coverage amount. Select the duration and premium mode from the dropdown menus.


Premium Mode: Annually. If you select this mode, the annual payment is all you will see when you get to the Compare screen.

Premium Mode: Monthly. If you select this mode, you will see the monthly payment as well as the annual amount when you get to the Compare screen.

Your options for how to proceed will depend on whether you selected the Referral or Application submission option at the beginning of the quote path.
---
☑️ Referral Process
If you selected the Referral process, you can click Save Basic Info to save the current data in a new client record, or click Next: View Quotes to continue.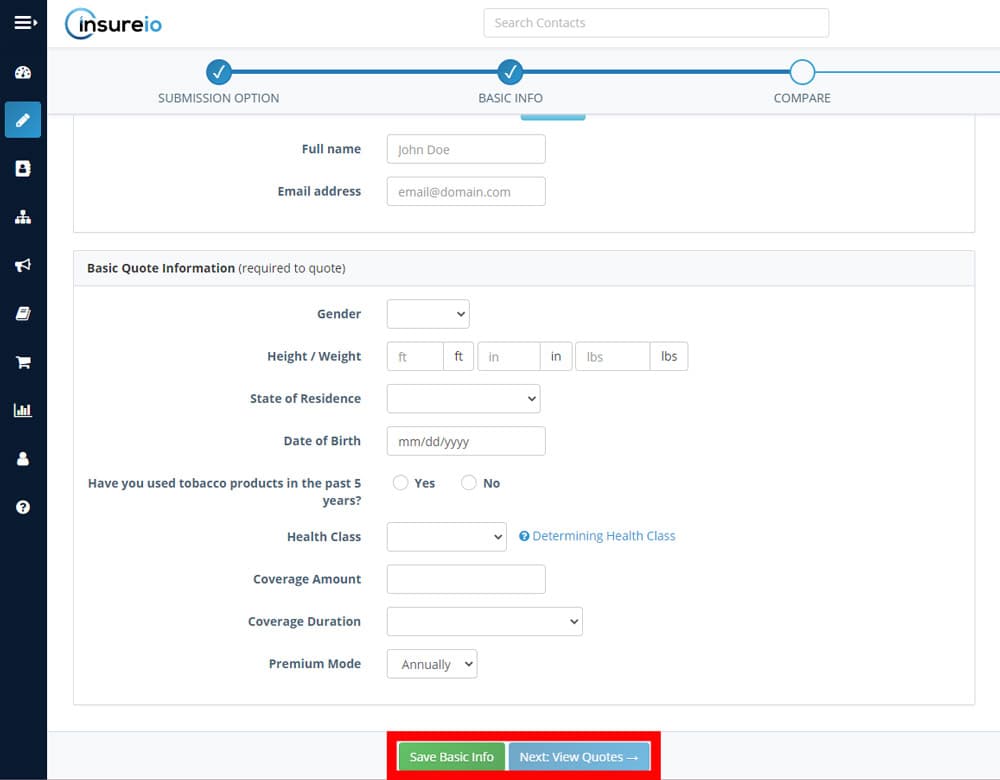 ---
☑️ Application Process
If you selected the Application process, you have three options: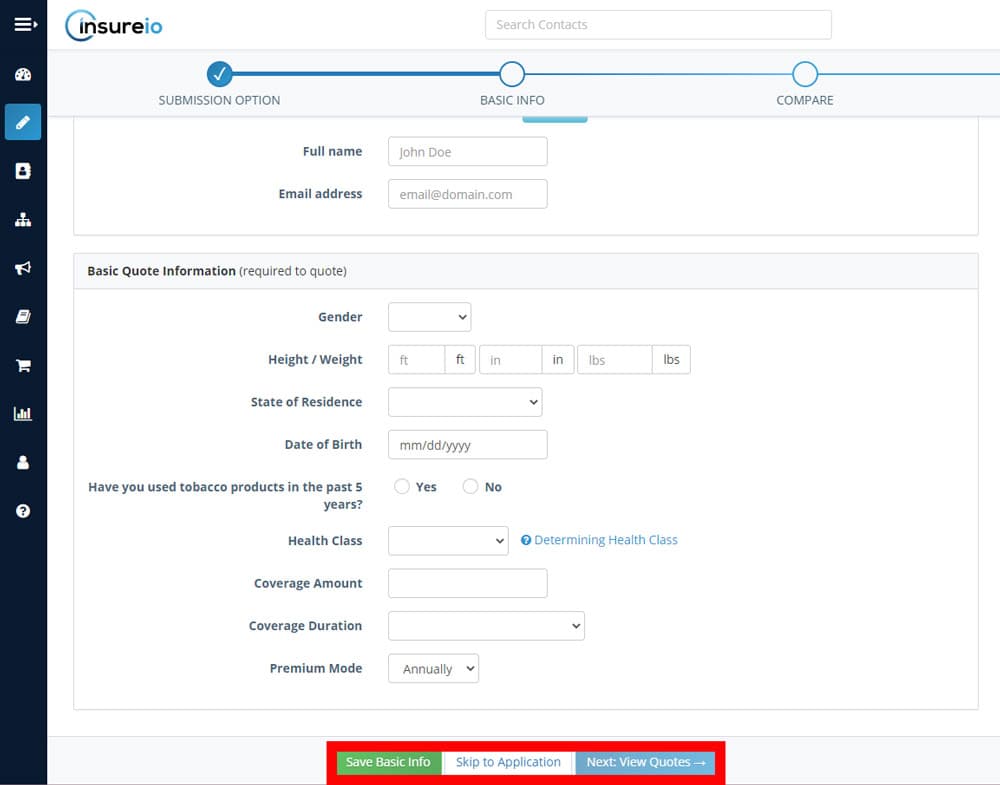 Save Basic Info allows you to leave and come back to this particular quote at another time.
Skip To Application allows for manual input of a new case for a client or lead. Generally, you'll use this when Insureio isn't able to provide a quote via the normal process because of health issues or custom case design.
Next: View Quotes will take you immediately to the relevant quotes, as long as the minimum required information has been provided (everything in the Basic Quote Information section).
---
Quote Path: Next Steps
Click here for Step 1: Quote Path Overview
You are viewing Step 2: Basic Info
Click here for Step 3: Discovery
Click here for Step 4: Underwriting
Click here for Step 5: Compare
Click here for Step 6: Application
---