LAST UPDATED: 6/28/19
Membership Levels
Insureio's Agency Management tools allow you to see how many sub-users are signed up for Insureio within your agency, or any sub-agencies you manage. If you have recruiting goals, you can use this screen to track your progress.
---
View Membership Levels
The Membership Levels tab shows you the number of sub-users you have, the subscription level those users have, and the calculated revenue that results.

Click the View levels for text entry box. Start typing and Insureio will display a list of matches. Select your user name and Insureio will populate the graph showing you your user count, revenue per user, subscription level counts, and calculated revenue.

To get a quick user count along with calculated revenue, click Show totals only?. The grid will collapse to show you just these two stats.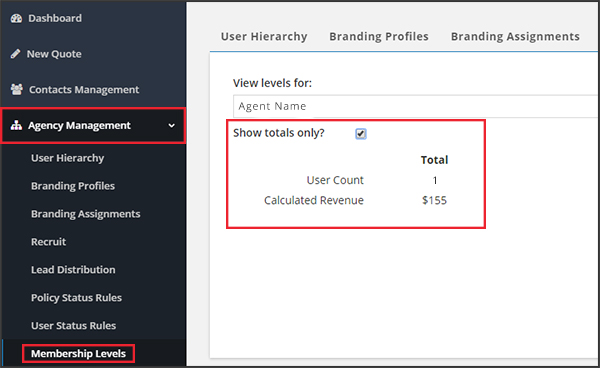 NOTE: To see stats for a different agency, select that agency's name from the "View levels for" dropdown menu. You can only view results for one agency at a time.