LAST UPDATED: 9/17/21
Quote Path: Compare
---
In this step, you can view the quote results, as well as a summary of your client's coverage details. You can also compare up to five of the quotes you received, and email those quotes to the client.
---
The Compare screen is Step 3 in the Referral process and Step 5 in the Application process.
Here's what this step of the quote path looks like.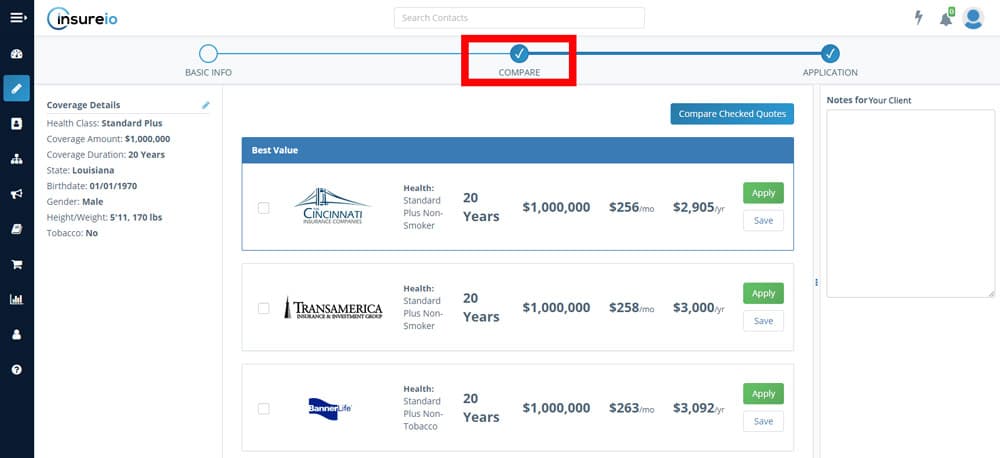 Insureio will provide a list of quotes sorted by price, with the lowest monthly rates on top, as shown in the screenshot above. The first result will be highlighted as the best value, offering the lowest rate. Each carrier's quote shows the carrier logo, quoted health class, policy duration, coverage amount requested, estimated monthly and annual prices, as well as two ratings - the AM Best rating, and a star rating we've given the carrier based on our experience with them.
Here's what you can do:
View or change coverage details
Compare checked quotes (and email to yourself or the client)
Apply for coverage
Save this quote
---
☑️ View or Change Coverage Details
The data used to provide the quote is always visible on the left, in the Coverage Details section. Click the pencil icon to edit any of these details.

You can change the health class, coverage amount, or term duration. Click Update Rates to refresh the recommended coverage options.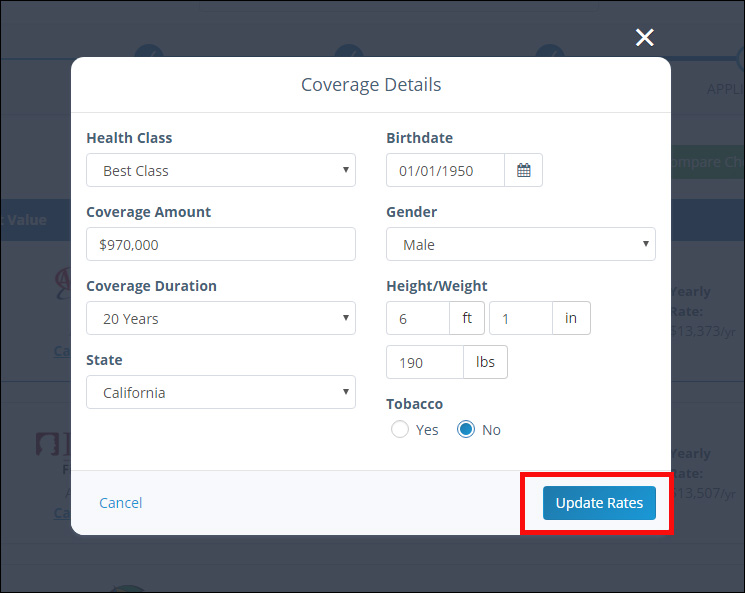 ---
☑️ Compare Checked Quotes - Email to Yourself or Your Client
Check two or more of the boxes within your quote results to compare policies head-to-head. Select the quotes you want to compare, then click Compare Checked Quotes.

A pop-up window will display your selections, with options to save these quotes to the client record, or email them to the client. Be sure you've configured your email in the My Account/Email Configuration section first.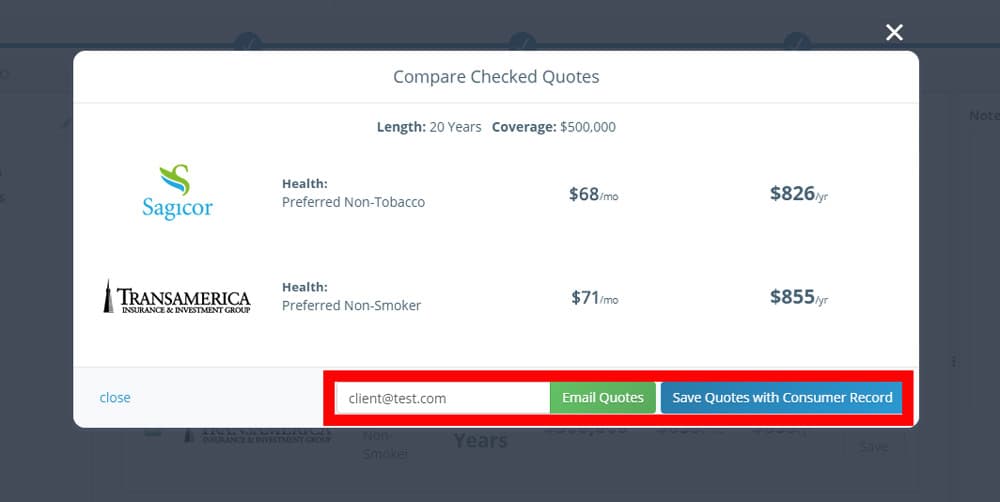 ---
☑️ Apply for Coverage
Click Apply to begin filling out an online application with your client.

Insureio will pre-fill all the information it can based on the quoted details. Fill in the rest of the required information.
To Submit An Application
If you used the Referral submission option, click Refer To Sales Team. Our application fulfillment partners will complete the sale and process the application on your behalf.
If you used the Application submission option, click Next: Submit For Processing to submit the application for processing by our fulfillment partners.
---
☑️ Save This Quote
Click Save to save this quote to the client's record. You'll need to provide the client's full name and email address (the minimal amount of information needed to create a client record, if one doesn't already exist). You'll also have the option to include a lead type, referrer, and source (these have to do with lead distribution and reporting, and they're not necessary to save the quote).

---
Quote Path: Next Steps
Click here for Step 1: Quote Path Overview
Click here for Step 2: Basic Info
Click here for Step 3: Discovery
Click here for Step 4: Underwriting
You are viewing Step 5: Compare
Click here for Step 6: Application
---