InsuranceDivision.com is part of the Insureio Marketing package. It's a white-labeled insurance marketing website, customized for your brand. When you use Insureio with InsuranceDivision.com, you have a closed-loop marketing system that can educate prospects and help convert them into clients.
In this article, we'll explain how to access and use InsuranceDivision.
Jump to a section:
How to access InsuranceDivision
How to use InsuranceDivision
---
How to Access InsuranceDivision
Your InsuranceDivision link is available in the Marketing section, in the Links tab.
Copy the text link in the box, or click the blue Go there link.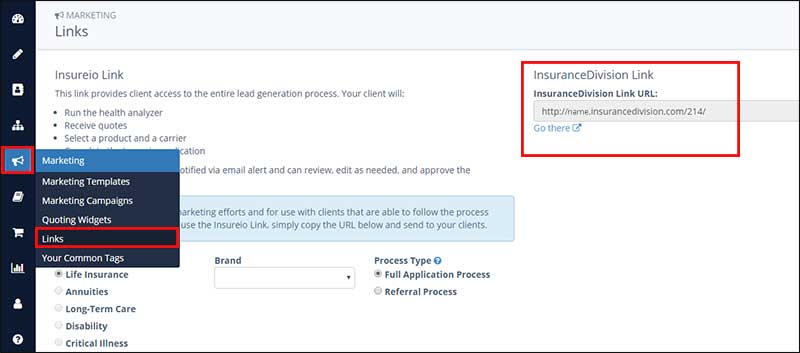 ---
How to Use InsuranceDivision
InsuranceDivision is a marketing website created to educate your clients on insurance and financial planning.
Every page is customized for you with the specific information you entered in your brand profile, including your logo and profile photo. Pages contain professionally written content, integrated quoting, embedded lead capture tools, and your contact information. It's ideal for agents and agencies wanting to make sales via web and phone to a large and diverse customer base.
ProTip: Be sure you upload a profile photo to your Insureio account. This is the photo your InsuranceDivision pages will display.
ProTip: You can redirect any domain name URL you own to point to your InsuranceDivision home page. For example, if you own JohnDoeAgency.com and have never had the time or money to develop it, you can point that URL to your InsuranceDivision page using your domain registrar. Any visitors to JohnDoeAgency.com would see your InsuranceDivision page instead.
Together, Insureio and InsuranceDivision function as your closed-loop insurance marketing system.
Here's how the pieces fit together:
Select from a list of more than 400 pre-designed marketing email templates and campaigns within the Insureio CRM based on planning need, product category, or a combination of both.
Once you select a template or campaign to send, you can limit distribution to an individual, a small group, or blast to your entire marketing list.
Consumers receiving your marketing pieces will be prompted to click on embedded links to "learn more," "get a free quote," or "schedule an appointment" as appropriate. They'll also see your brand's header image, and your contact information, filled in for you when you send. When they click the link, they'll be taken to the corresponding page on your branded InsuranceDivision.com website.
Your InsuranceDivision pages feature your personal profile photo as well as your brand's profile information - logo, contact info, etc., as well as buttons to schedule a call, request quotes via email, or get a free quote right there on the page.
e-Marketing links contain encrypted data about each consumer. This speeds up form fills and quote requests by pre-loading common data like name, birthday, state, etc. This saves the consumer time and improves e-marketing conversion rates.
When a consumer downloads content, fills out a form, or requests information from your InsuranceDivision website, a new opportunity (often called a lead) is added to your Insureio CRM dashboard.
As new leads are generated, they're put into the initial status you defined in your status rules. This starts a series of automated tasks, like introduction or thank-you emails, follow-up calls, and text messages. This ensures that each opportunity is worked and that no requests go unanswered or "fall through the cracks."
InsuranceDivision pages cover a variety of product categories and planning needs:
| Product Categories | Planning Needs |
| --- | --- |
| Life insurance | Family Planning |
| Annuities | Health & Long-Term Care |
| Disability | Business & Executive Planning |
| Long-term care | Retirement Planning |
| Medicare supplement | Estate Planning |
| Vision | Charitable Planning |
| Dental | Liability Protection |
Every InsuranceDivision page provides a marketing-compliant and secure interface with:
Customizable footer containing state required licensing disclosures
Included Privacy, Terms of Use, and Terms of Service disclosures
Embedded TCPA required disclosure for lead capture

---
Learn more about Insureio's marketing email templates and campaigns: