LAST UPDATED: 6/9/21
Commission Splits
There are two ways to enable commission splits in Insureio. You can add default settings at the brand level, or override them on a case-by-case basis within a policy. You can add up to 6 Agents of Record, in addition to 1 Agent Assigned with related splits. Anytime there are multiple Agents of Record, Insureio's reporting section will indicate as such with comma-separated lists of agent IDs and names.
Jump to a section:
---
Brand-Level Commission Split
If you know that all policies placed under this brand will have a commission split, you can enable that split here at the brand level. Each entry you add here will create another agent of record to whom you can assign a percentage of the commission. You can also add criteria for lead type and source to ensure that the correct split is applied based on where that policy originated. If needed, you can override these brand-specific rules within a policy as described below.
When a lead hits the system for this brand, the system will first look for rules that apply to that lead's source and/or lead type. If the system finds a match in the rules you enter here, the percentage set in those rules will apply. If the system finds no commission split details with matching lead type and/or source, the split will be applied according to the remaining rules. Here's the order in which the system looks for and applies your rules:
First priority: Lead type and source match
Second priority: Lead type, but no source
Third priority: Source, but no lead type
Fourth priority: No source or lead type
---
Add Commission Split Rules
1. From your left-hand main menu, click My Account / Brands. Scroll down to the Brands tab.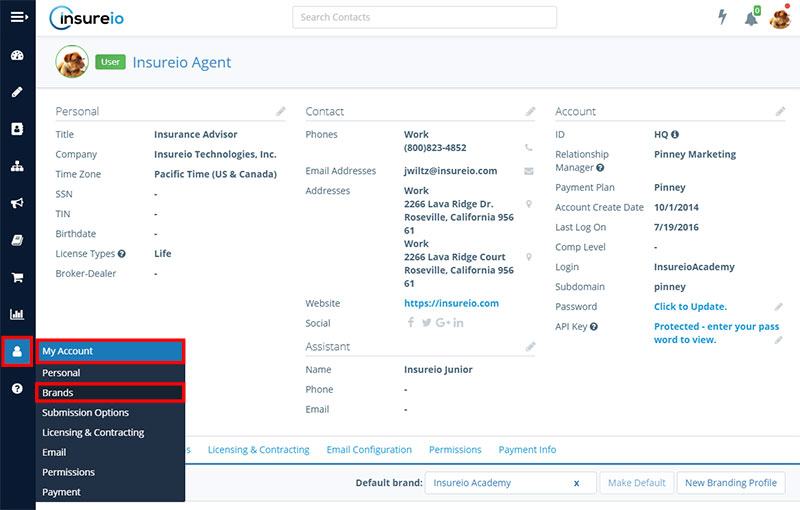 2. Click the dropdown arrow to the right of the brand you want to edit. Choose Modify.

3. In the Commission Split section, click Add Split.

4 (optional). If you want to enable a split by lead type and/or source, click that box and select the desired entry. These values are pre-populated based on previous use within that brand. If you don't use lead distribution, you may see no available fields or a default such as "IO quote path submission."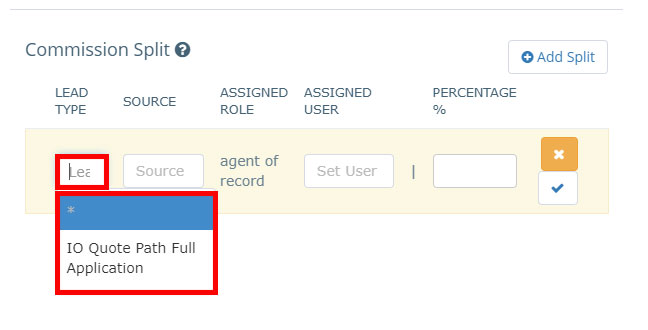 5. Add an assigned user for this split. Start typing the name of a system user and Insureio will pull up possible matches. Click to select the desired user.

NOTE: Only users who have been given access to the brand will be available to select. Don't see the user you want? Make sure they are members of the brand (as shown in the image below - the entry box is directly above the commission split entry).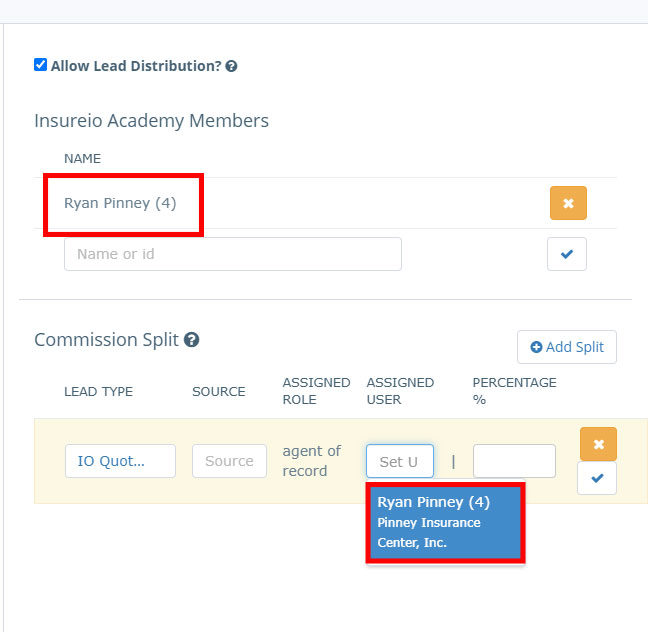 6. Add the percentage this user should receive.

7. Click the blue checkmark to save this rule.
Once you add an additional agent of record, the system will add a row for the agent assigned. It will assign the remaining percentage to this agent. You can add additional agents of record by repeating the steps above. You may have up to six agents of record and one agent assigned.

---
Policy-Level Commission Split
Any commission split entered here will override the default settings you created for your brand.
1. In the policy's Policy Details tab, scroll down to the Agent Details section. Click the edit icon on the far right.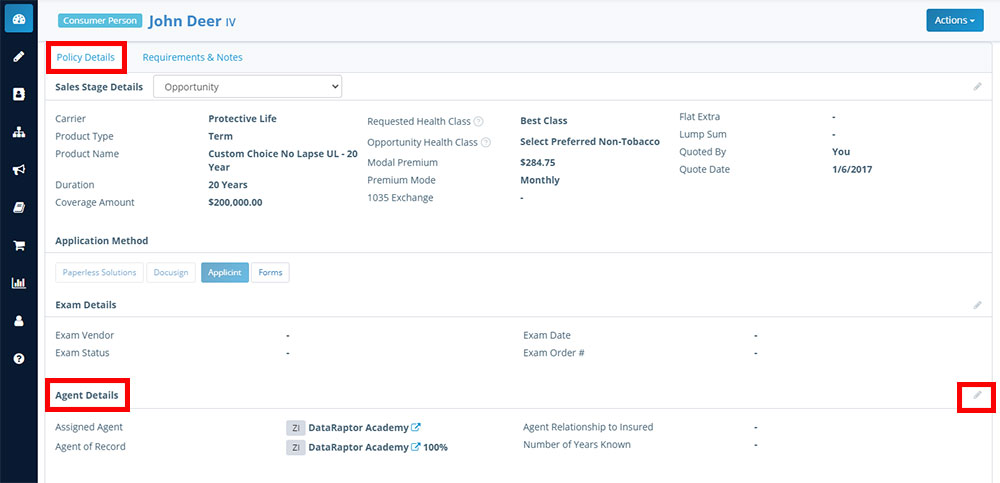 2. Click Add agent of record.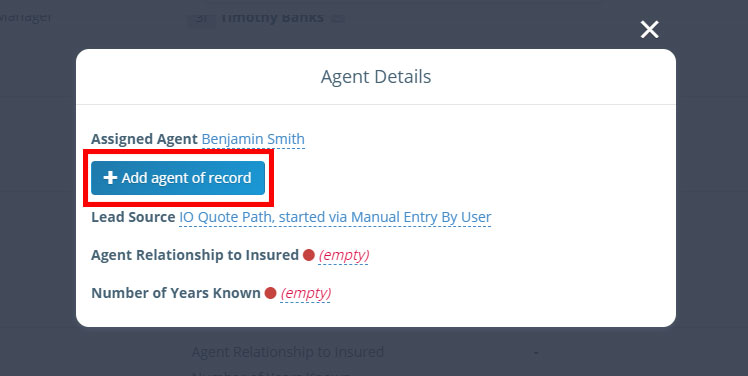 3. Start typing the name of the agent you want to add. Insureio will pull up possible matches – select the desired agent from the list.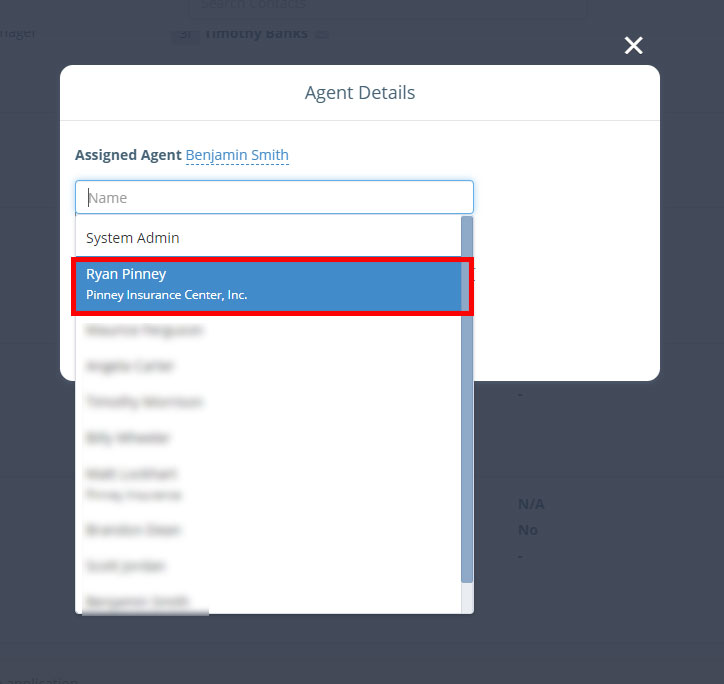 4. Enter the commission split percentage in the text box to the right of the agent name. Click the blue checkmark to save.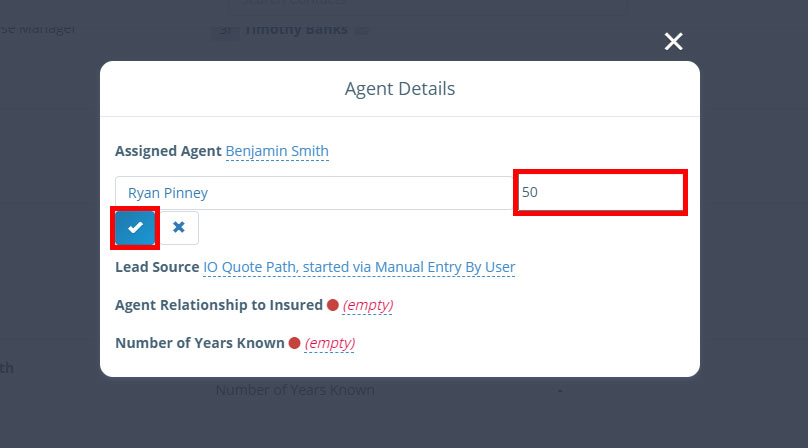 5. Enter any additional agent names and percentages to ensure the total percentage entered equals 100%. If the assigned agent is intended to be an agent of record, their name and split percentage must be entered here. For example, if you only enter one agent of record and give them 50% of the commission, you'll see an error message telling you the percentages do not add up to 100%.