LAST UPDATED: 6/28/19
Add InsuranceDivision to Your Subscription
InsuranceDivision.com is available with the Marketing package. It's a white-labeled insurance marketing website, customized for your brand. When you use Insureio with InsuranceDivision.com, you have a closed-loop marketing system that can educate prospects and convert them into clients.
---
Add the Marketing Package to Your Subscription
You need to have the Marketing package to access InsuranceDivision. This package is $50/month. If you run an agency, the Marketing & Agency Management package is $75/month and will also get you access. To upgrade from Basic, hover your mouse over the My Account section and click the Payment Info tab from your left-hand main menu.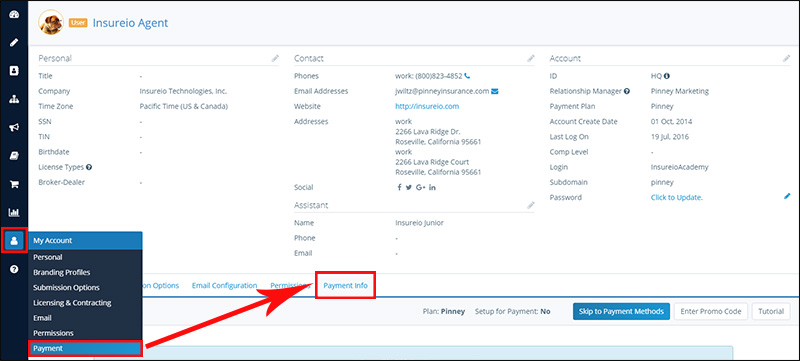 Click Select under the Marketing ($50/month) or Marketing & Agency Management ($75/month) subscription.

You'll see a pop-up message asking you to confirm that you want to change your plan.

Once you click OK, you'll see your plan information update at the top of the tab. Your account now has the proper permissions to access InsuranceDivision.
---
Ready for the next step?
Click here to learn how to access and use InsuranceDivision