You can access the XRAE health screening tool in the Resource Library, through the "Quoting & Product Tools" tab. The tool is embedded in the Insureio application, so you don't have to have a separate browser tab open to use it.
---
XRAE
The multi-carrier XRAE health screening tool was designed to help you with the initial collection and analysis of client medical information. XRAE will help you build each sale on a solid foundation by guiding you through the collection of important data, the accurate application of carrier underwriting rules, and the quoting of the correct underwriting class and pricing.
To access it, click Resource Library from your left-hand main menu, then Quoting & Product Tools. XRAE is listed on the left, in the Life column.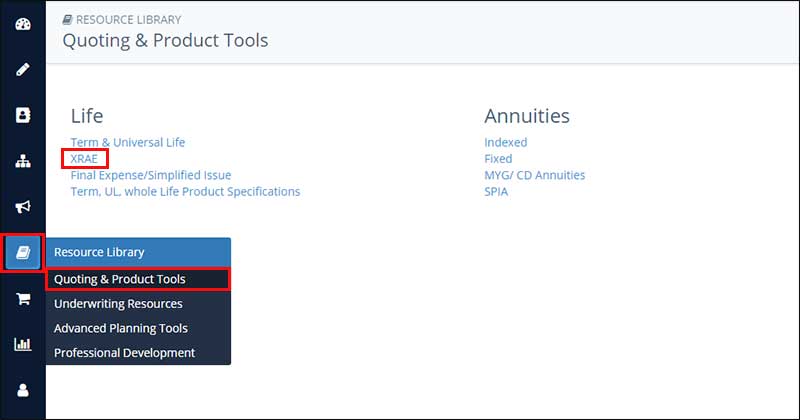 Click XRAE. It will open in a new browser tab.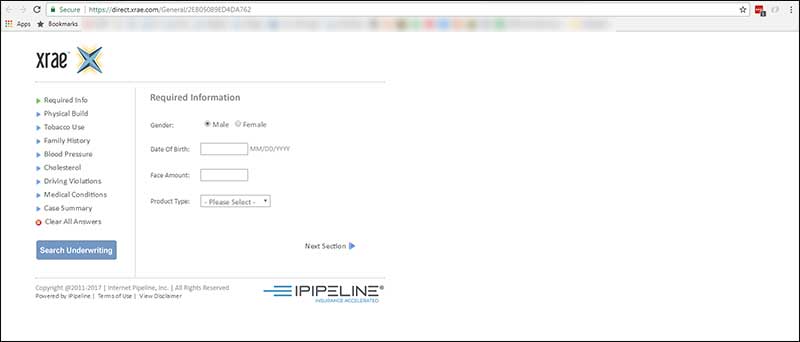 Now you can start filling in client data. Here's how the basic navigation works:
Fill in the data requested on each screen and click Next Section.
Click on any screen title on the left to be taken to that part of the data collection process (i.e., Physical Build, Tobacco Use, etc.).
Click View Disclaimer at any time to read XRAE's disclaimer in a pop-up window. None of the data you entered will be lost if you click this link.
Look up underwriting guides at any time by clicking Search Underwriting. If XRAE has enough data, it will bring up a list of carriers, policy names, and a link to the relevant underwriting guide. If XRAE does not have enough data, it will prompt you to enter the minimum amount of information required.

Want to quote your client from here? From the list of underwriting results, choose Search Pricing, choose the client's state from the dropdown menu, and click Search Pricing. Filling in more of the required information will lead to a more accurate quote.
Want to go back? Click Back to Questions.