LAST UPDATED: 8/19/22
Final Expense Quoter
Our new final expense quoter lets you quote final expense policies and, if your client is ready to apply, go straight to the carrier website to log in and submit the app.
---
How to Access & Use the FEX Quoter
1. From the left-hand main menu, hover your mouse over the New Quote icon and select Final Expense.

2. Enter the client's name and email address.
3. Enter the basic information required to provide a quote:
Gender
Height/Weight
State of Residence
Date of Birth
Benefit Type: Select Level, Graded/Modified, Guaranteed Issue, or Traditional/SIWL


Coverage Amount: Choose an amount from $2,000 to $100,000
4. Click Next: View Quotes to proceed.
5. Client ready to apply? Click Apply to be taken to the carrier website to proceed.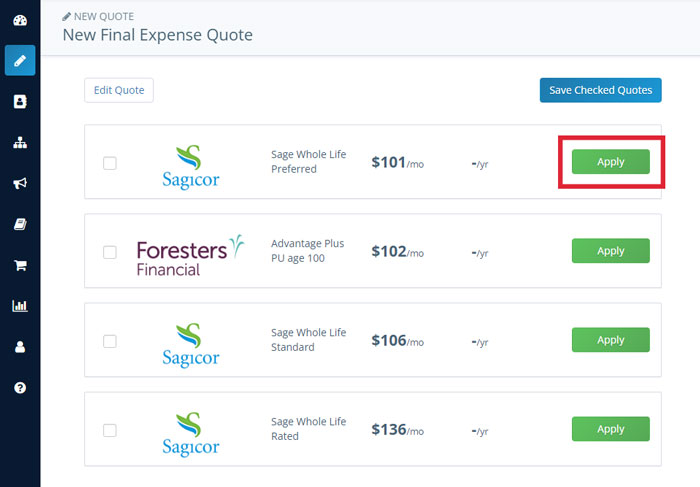 ---
How to Edit & Save Quotes
To edit a quote
1. Click the Edit Quote button. You'll be taken back to the screen with client and basic quote information to adjust your entries.

2. Click the Next: View Quotes button to proceed with your updated information.
To save a quote
1. Click the checkbox to the left of any quotes you want to save.
2. Click the Save Checked Quotes button.