LAST UPDATED: 6/17/21
Banner's Horizon eApplication Process
When you drop a ticket to Banner/Legal & General's digital application and automated underwriting platform through Insureio, eligible customers may be approved without the need for exams. Underwriting evidence is collected digitally, in real-time during the application process. How is this different from other eApplication processes? Banner now offers the ability for the agent OR the consumer to complete the application health questions/Part II online. This is in addition to their AppAssist Call Center model. The new process also incorporates the Lab Lift program, making it the only way to access every single eProcess Banner has in one place.
Jump to a section:
---
☑️ About the Horizon eApplication Process
The Horizon eApp process is completely integrated within Insureio. With just a few clicks, the entire Insureio consumer file and case details can be pre-loaded and ready to submit in Banner's portal. With a single click of a button, all the data Insureio collects as part of our normal drop-ticket process gets automatically fed to Banner. This process allows most insureds to avoid an exam and use a link to fill out their own medical information, complete with real-time scoring and underwriting.
To make the process seamless, Banner automatically returns a policy number and links case tracking between their systems and Insureio.
As an added benefit, Insureio will run a licensing & contracting pre-check to ensure that your submission has the details required to allow information to be pre-loaded from Insureio and submitted quickly. If any of your licensing or contracting data is out of date, you'll be alerted onscreen so you can get it updated right away.
---
☑️ Does your client qualify?
The need for exams is determined by evidence collected during the application process such as disclosures by the applicant, family history, prescription history and other third-party data, and is typically available within the age and face amount ranges below. It's best not to set the expectation with clients that they'll automatically qualify for no exam. Instead, explain that they'll schedule the exam at the end of the application, if needed.
For complete eligibility details, click here.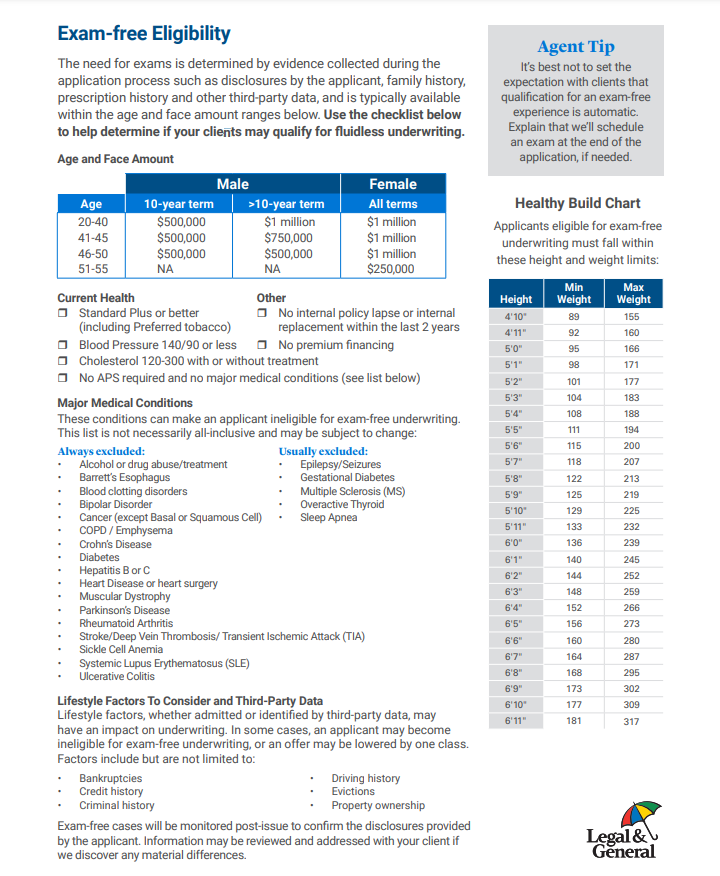 ---
☑️ How to use the Horizon eApplication Process
1. Quote the client using the Insureio quote path. From the available options, find Banner Life and click Apply.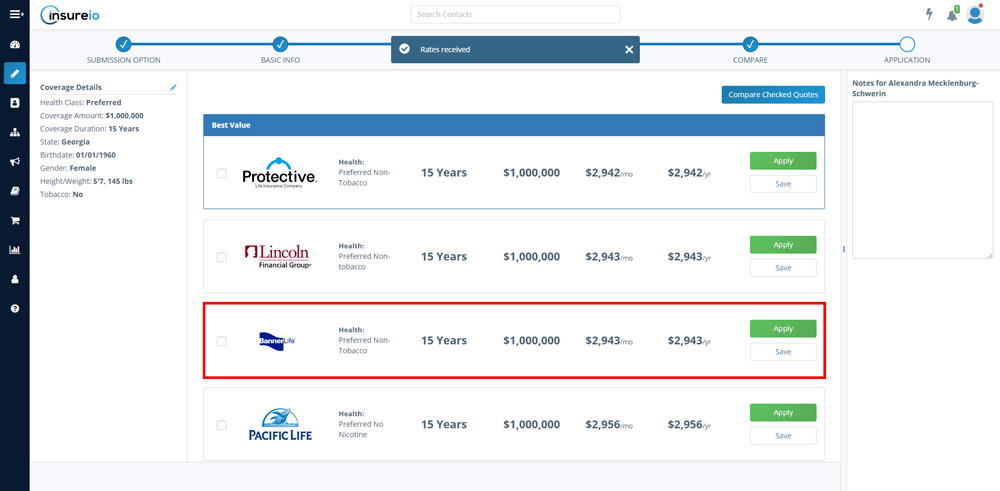 NOTE: When quoting a consumer, you can use the integration within the quote path to submit, or save the quote and go back and submit later from within the saved policy, as shown below. If you saved the quote and return to submit but the Submit to Banner button isn't active, hover your mouse over the button. If there are missing licensing or contracting details, they'll appear in a tooltip.

2. Fill out the required information and click Next: Submit for Processing.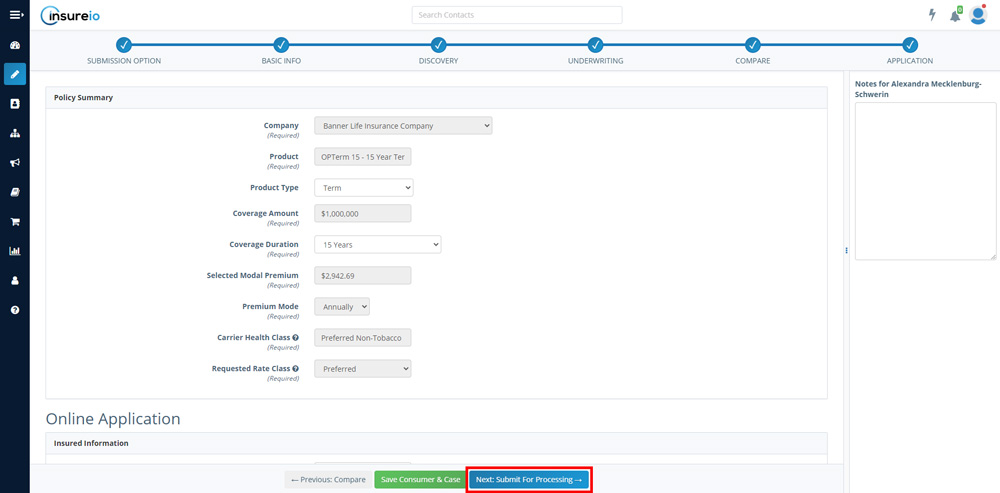 3. Once you submit the app, Insureio will email the client letting them know that Banner/William Penn will send them an email allowing them to either (a) complete the application online, or (b) schedule a 30-minute phone interview. If your client chooses to complete the application online, they'll have the option to sign it digitally. If they complete it by phone, they'll have the option to use voice signature or request a paper copy by mail. This email lets them know what information they'll need to have handy to complete their application.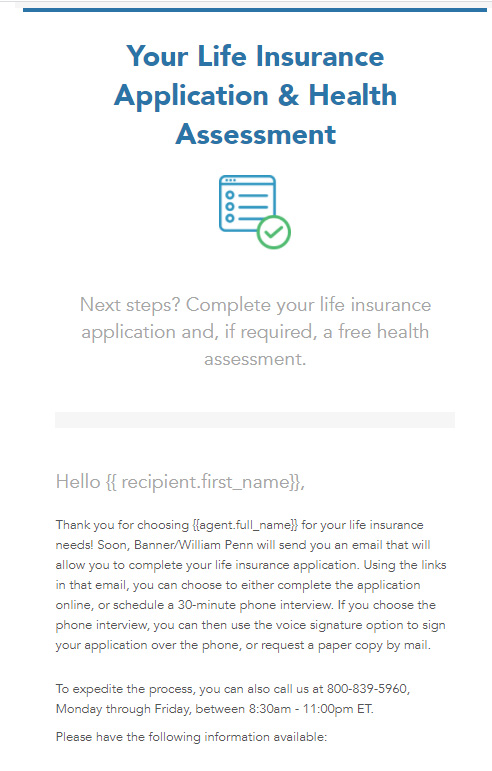 You'll also receive an email with the client's name, phone, email, and the information we provided them regarding the interview.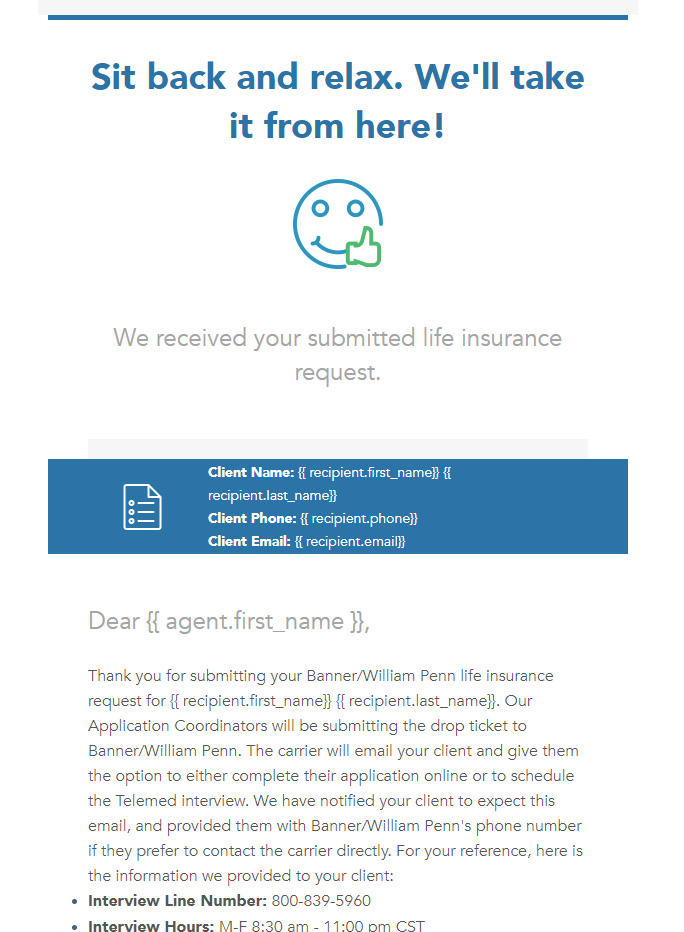 In the background, our app fulfillment partners will check to make sure you have all the correct licensing and contracting information required to submit the application. They'll also follow up on the application's status. If, for any reason, the client doesn't complete their interview, we'll reach out to them and to you so we can work together to get your case completed and submitted.
4. Once the client's information is transmitted to Banner, your client is emailed or texted an online application link. Reflexive application questions are integrated with data collection for a real-time decision. The client signs the application electronically and an exam will be scheduled, if needed. If eligible, the policy will be approved and issued with no exam.
5. Want to check for updates? Once the case is submitted, you can see the Banner policy number within IO: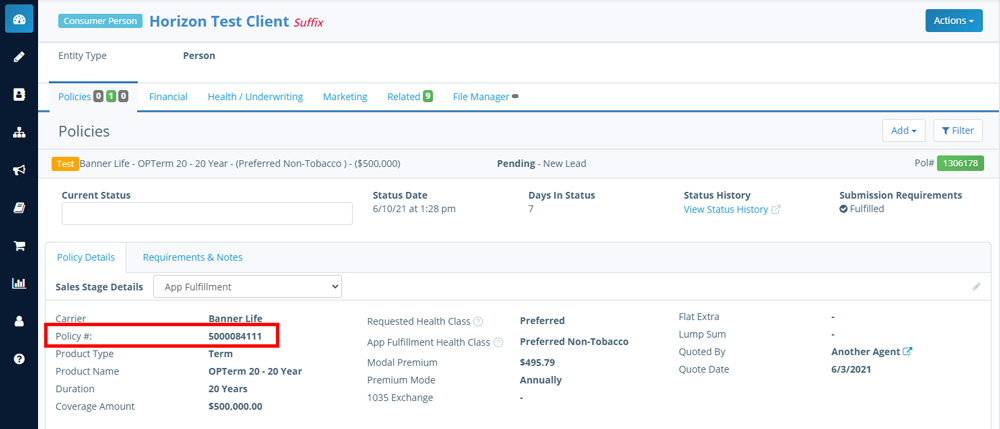 You can also easily confirm that the policy has been submitted to Banner:

---