In the Marketing section, use the Quoting Widget tab to create a personalized quoter that you can embed on your website(s). This article explains how to use the widget's advanced tracking options by appending codes to a web page's URL.
---
How Advanced Lead Tracking Works
The Insureio quoting widget allows you to track lead sources using the URL of the page on which your quoter is housed. This is handy if you're using display ads, remarketing, or other sources for leads that constantly change, but need to be tracked when leads are generated. When a prospect uses that URL to get a quote, your unique tracking codes will transmit to the system along with your prospect's details. To use advanced lead tracking, you'll append codes to the URL of your quoter page. You can use codes for marketing tags, codes for quote-related data such as the state, policy face amount, etc., or any combination of the two. Here's an example of a specific URL with tracking details appended for a marketing tag:
http://www.mywebsite.com/quotes.html?dr_tags[referrer]=Radio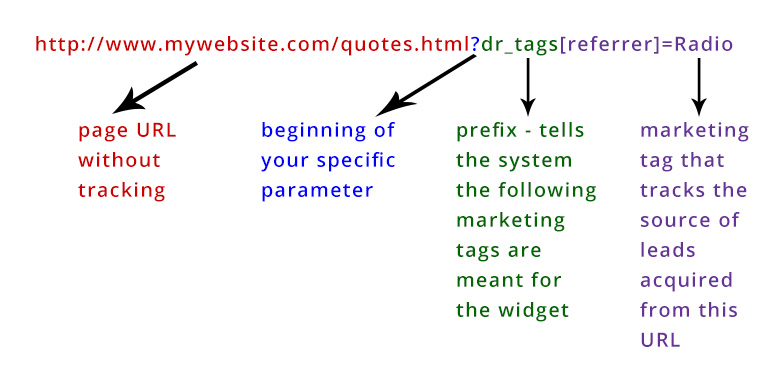 ---
Creating an Advanced Tracking Parameter Using Marketing Tags
Begin with the URL of the page on which your Insureio quoting widget is housed. In our example above, that would be http://www.mywebsite.com/quotes.html.
Add a ? immediately after the address of the page ends. This is the beginning of the parameters (aka the query string) you are passing to the page.
Insert the prefix dr_tags. We insert this prefix before any URL parameters meant for our quoting widget so they don't conflict with the names of any parameters meant for the host page (i.e., if you're running a display ad on a website and the host page has its own parameters for Google Analytics or similar tracking service).
Insert your key/value pair. The key for a marketing tag should appear in brackets [ ], followed by =, followed by a value. In the example above, that is [referrer]=Radio.
OPTIONAL: Insert any additional query strings formatted like this:

Use the & symbol to separate this new key/value pair from the previous pair.
Insert the prefix dr_tags.
Insert your query string as described above.
If we were adding to the example above, it would look like this: &dr_tags[source]=quoter2.
A full example with two key/value pairs would look like this:
http://www.mywebsite.com/quotes.html?dr_tags[referrer]=Radio&dr_tags[source]=quoter2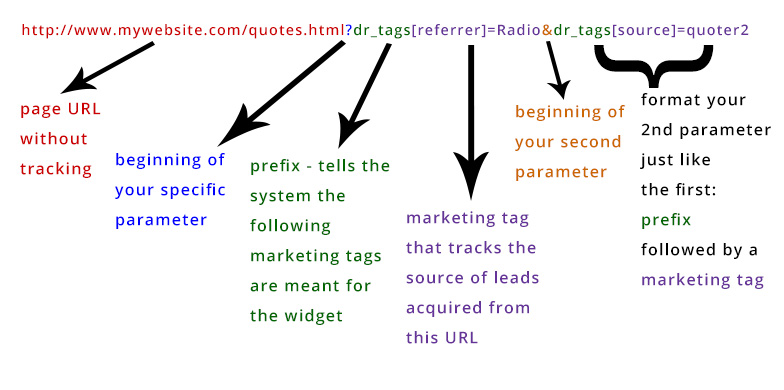 ---
Creating an Advanced Tracking Parameter Using Quote Details
Begin with the URL of the page on which your Insureio quoting widget is housed. In our example above, that would be http://www.mywebsite.com/quotes.html.
Add a ? immediately after the address of the page ends. This is the beginning of the parameters (aka the query string) you are passing to the page.
Insert your key/value pair. Your key should appear followed by =, followed by a value. Here's an example: state_id=5.

You can use any of the following keys to create a query string:

id
state_id - the corresponding value must be one of these enum codes
birth_day
birth_month
birth_year
height
weight
gender
face_amount
period
health_class - the corresponding value must be one of these enum codes
address_id - the corresponding value must be one of these enum codes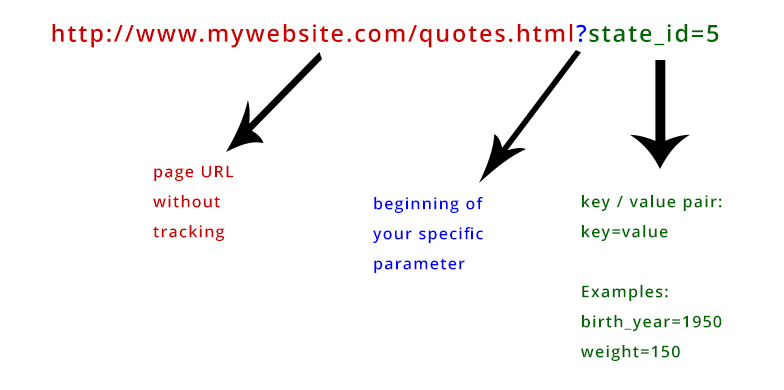 ---
Creating an Advanced Tracking Parameter Using Marketing Tags & Quote Details
You can use parameters for both marketing tags and quote details in your URL. Add an unlimited number of marketing tags by using the prefix
dr_tags
. Here's an example of a URL that contains parameters for marketing tags and quote details:
http://www.mywebsite.com/quotes.html?state_id=5&height=6_0&dr_tags[referrer]=AARP