Account Set-Up
Welcome to Insureio! Let's get your account set up correctly. Proper setup optimizes the system's effectiveness and ensures consistency when communicating with clients.
There are three steps required to set up your account: filling out your personal information, configuring your email, and setting up your brand.
In this article, we'll cover how to fill out your personal information.
Step 2: Click here for a walk-through on setting up your brand.
Step 3: Click here for a walk-through on configuring your email.
---
Make sure your contact information is complete and correct.
Your contact information is stored in the My Account section, in the "Personal" tab. From the left-hand main menu, click My Account / Personal. Here's what you'll see: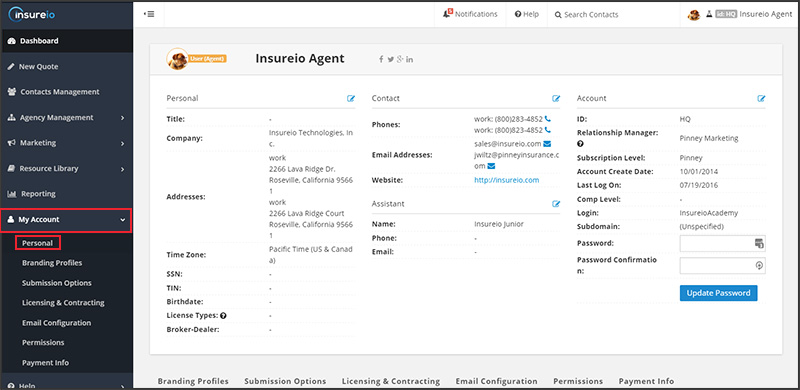 Some of the fields will be pre-filled with information you provided during sign-up.
Please fill out the rest of the fields as completely as possible.
Why do we need this information? Insureio uses this data to auto-fill forms and fields for you throughout the system, from client communications to eApplication forms. This is a very important step!
Want a field-by-field walk-through? Check out the Personal Information page.
To add or edit information, click the blue "edit" icons circled in green below: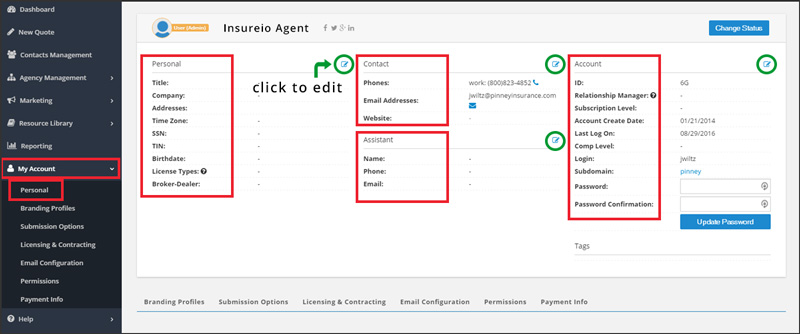 A data entry window will appear. Click any blue or red text to edit. To skip or cancel without saving, click outside the data entry window.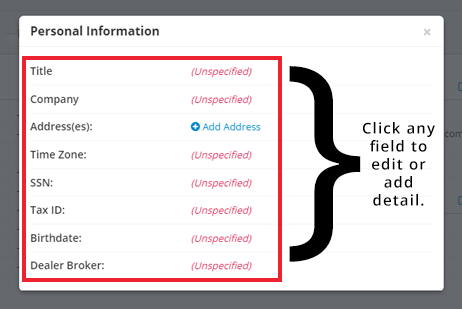 ---
Did you choose a strong, secure password?
If not, we recommend changing it now. You can also change your login ID, if you wish. We recommend using your email address as your login, along with a password that's unique to you.
To change your password, find the Account column on the right-hand side of the "Personal" tab.
Type a new password in the "Password" text box. Re-type your new password in the "Password Confirmation" text box. Click the blue "Update Password" button.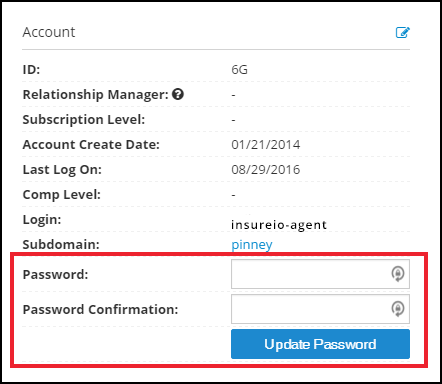 Need tips for creating a secure password? Click here.
---
Ready for the next step?
Your personal contact information, updated in this step, might not be the same as the contact information for your brand. That's why all client correspondence in Insureio is issued from a brand.
Many of our users will only have one brand, but agencies may have several different brands operating at the same time. Even if your brand name and contact info is the same as your profile name and contact info, your brand profile must still be filled out for Insureio's email templates to function properly.